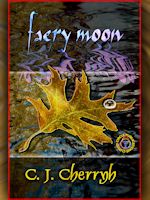 ..."And where there is bluid to be shed, thou 'rt most apt. The Sidhe weep for thee, my damned prince; and use thee, for they hae nae gentler weapon..."

Celtic Faery: not quite Tolkien-esque fantasy

Take my advice. If a black dog or a black horse turns up in your path by night, wiser to turn back, no matter how urgent your journey. Don't, for the life of you, be walking by the bog alone at midnight. And above all else, if a thing belongs to the elves, no matter how attractive—

---Contains "The Brothers," from 1986; Faery Moon, a total revision of Faery in Shadow, under new copyright; and various notes and extras. Full download is 8 meg; Mini is around 3.


Look for more here in the coming months.