I finally got the time to update the flyer. I think it's a lot better/clearer now. If you've already printed from the other file, that's totally cool.
This file prints just fine at the "fast draft" quality.
Thanks again to all who have offered to put these out at conventions, on campus, or anyplace else that's legal! Another thing that would be really helpful, now we're actually getting underway, is if people could send us the contact information for conventions…around the world! We'd like to put some ads in program books.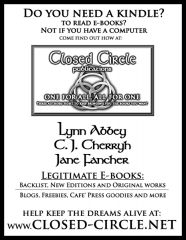 Some of you have generously offered to print and put out a few fliers for CC at conventions. We can't thank you enough. Here's the link. It will remain available on the "freebies" page under the catalog.

This file should print fine at the "fast draft" quality.